About Rainbow
"Rainbow", the troupe from the Russian city of Voronezh was formed in 1979. The troupe was led by Mr. and Mrs. Belousov who have been decorated by the Russian Government. RADUGA is the honoured ensemble of people's art and creativity. RADUGA is the winner at many international festivals in Algeria, Bulgaria, Germany, Holland, Egypt, Spain, Portugal, Tunicia, Sweden, France and Japan. Leaders of the ensemble RADUGA are honoured artists of the Russian Federation – They are Elena and Genady Belousovy. This year the ensemble is completing its 32 years. The singer Nadzda Bakuleva is the participant and winner of international festivals.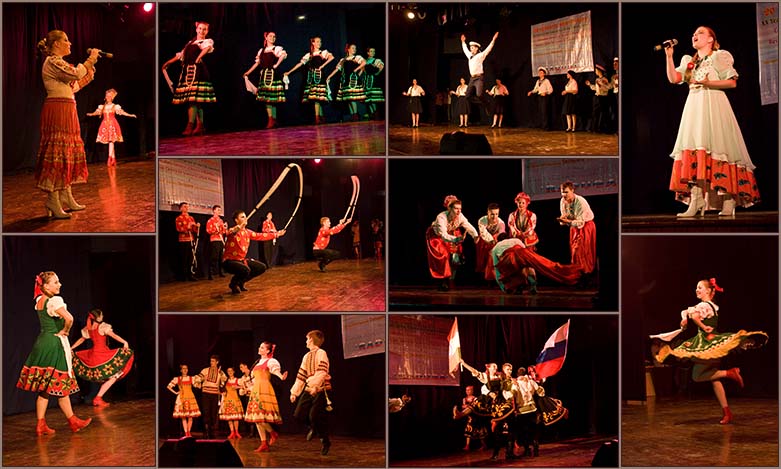 Early History
The first Russian folk music and dance extends back into the 10th century, when Slavic tribes moved into Russia. The Slavs were known for their knowledge and mastery of instruments, songs and dance. Because of the many invasions of the country and the resulting inter-cultural mix, many of the original dances have either been combined with each other into new forms or been lost over time.
The first dances were only known by the peasants and the lowest classes. The upper classes and aristocracy did not dance themselves, but they instead enjoyed watching the performances of dance troupes and clowns. There were also street entertainers, or "skomorkhi," who sang and danced and performed tricks as they wondered from town to town.
First Bear Dance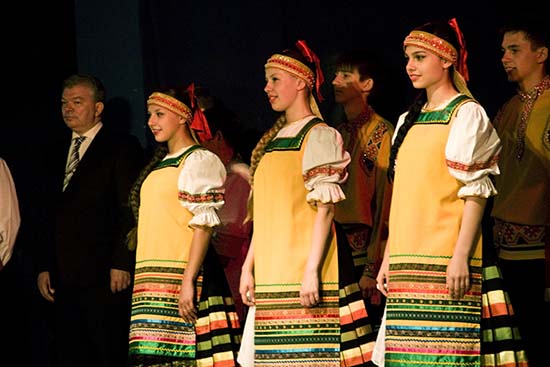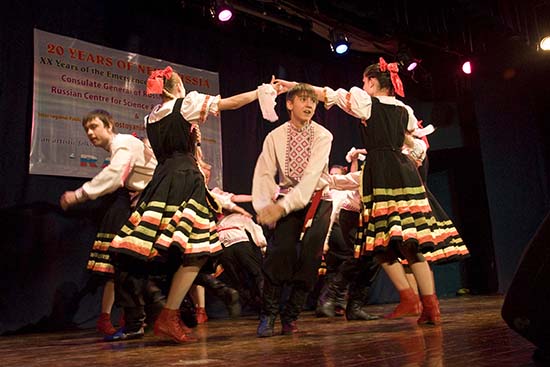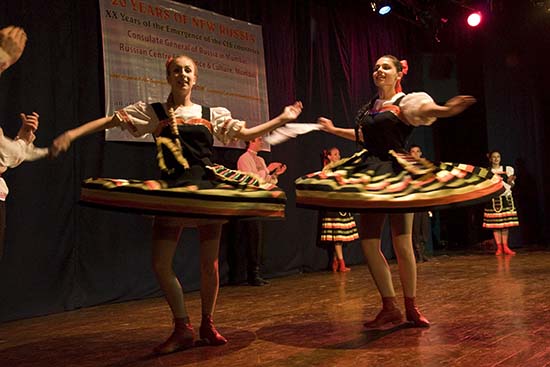 According to Russian dance director Mikhail Victorovich Smirnov, the first established record of Russian dance occurred in 907AD when Vechshiy Oleg, first grand prince of Kiev, was celebrating his victory at Constantinople. Although his troops could not infiltrate the city walls, they did force the Greeks to enter into a treaty. At the celebration, male dancers dressed up like bears, and several dancing bears were clothed like Russians. At the end of the feast, Oleg demanded the bears be released back into the wild and the dancers be executed. Apparently, Oleg, who was partially blind, thought the dancers were from the northern tribes who owed him numerous tiger skins.
Holiday Traditions
Some of the Russian folk songs and dances were associated with calendar events, such as planting and harvesting and others with family rites, such as birth, weddings and funerals. Most Russian holidays are celebrated in the fall and winter when the farming is done for the year. The entertainment begins with a prayer and is followed with an abundant feast, singing, dancing and a series of entertaining fist fights or "stenka na stenku," "wall against wall."
Folk Dance Clothing
The clothing, which accompanied many of the dances, was also based on the event. Holiday headwear included a "kokoshnik," or headdress that was decorated with pearls and gold thread; embroidered and decorated blouse or shirt; "sarafan," or jumper; belt and ornamented apron. The primary colour was red, which meant "beautiful." The men wore "kosovorotka," or shirts fastened on the side; belts; narrow trousers; semi-high or high boots.
First Dance Troupe
In 1937, after the civil war came to an end, the Soviets organised the first Russian folk dance troupe under the direction of Igor Moiseyev. The troupe continues to be one of the top performers of folk dance worldwide. The dancing ensemble with its traditional music, dance and song, which is popular in the West, keeps the audience clapping and shouting praise. Moiseyev died in 2008 at the age of 101.
Moiseyev Dance Company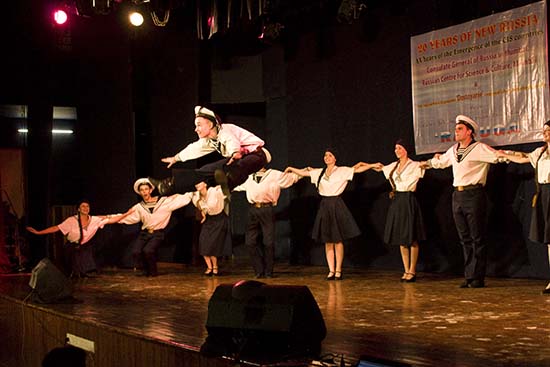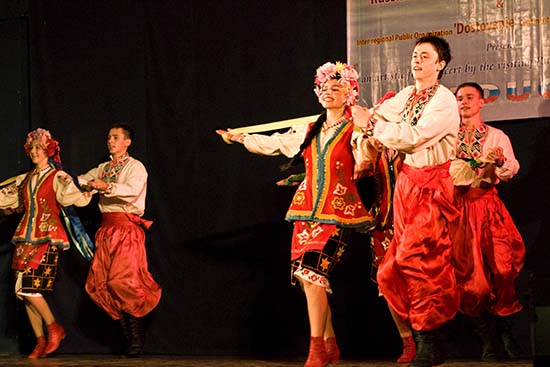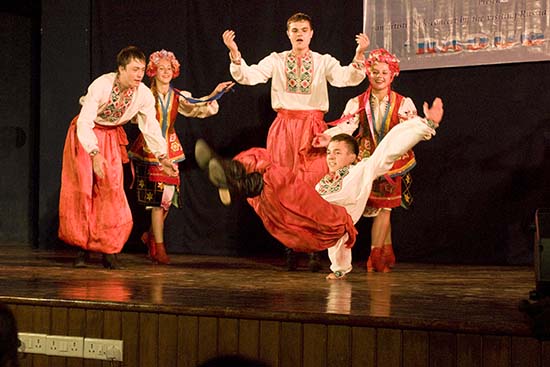 The Moiseyev Company embodies all of the Russian traditional folk dance arts and preserves the folk culture. The classically trained are more than dancers. The men and women in their traditional belted tunics and bright red dresses are also acrobatics, like today's break dancers, with bodies spinning and zigzagging on the ground so fast they are almost impossible to see. The dancers fly into the air with their legs wide apart and their fingers touching their toes. While they are dancing, they are telling the story of the hundreds of years of Russian history and the many changes that occurred during the centuries.
Few Dance details found below:
Barynya
Barynya is a fast Russian folk dance and music. The word barynya (Russian: landlady) was used by simple folk as a form of addressing to a woman of higher class, a feminine form for the word "barin", landlord.
A number of Russian folkloric dance ensembles bear the name Barynya.
The Barynya dance is an alternation of chastushkas and frenetic dancing.
The Barynya chastuskas used to have the refrain, kind of "Barynya, barynya, sudarynya-barynya". The content was often humoristic, even lewd.
The dancing was without special choreography and consisted mainly of fancy stomping and traditional Russian squat work – knee bending (prisyadka).
There are a number of scenic, more refined versions of the dance.
Kamarinskaya
Khorovod
Khorovod (Russian) is a Slavic art form, a combination of a circle dance and chorus singing, similar to Chorea of ancient Greece.
Troika (dance)
Troika is a Russian folk dance, where a man dances with two women. The Russian word troika means three-horse team/gear. In the Russian dance the dancers imitate the prancing of horses pulling a sled or a carriage.
This dance is included into repertoires of virtually all Russian ethnographic dance ensembles. Similar folk dances are known among other Slavic peoples, e.g., the Polish Trojak.
A Cajun dance of the same name, Troika, exists, and is very similar to the Russian dance. It has been suggested (citation needed) that theCajun version of the dance originated at the times when Cossacks of the Russian tsar army were stationed in Paris.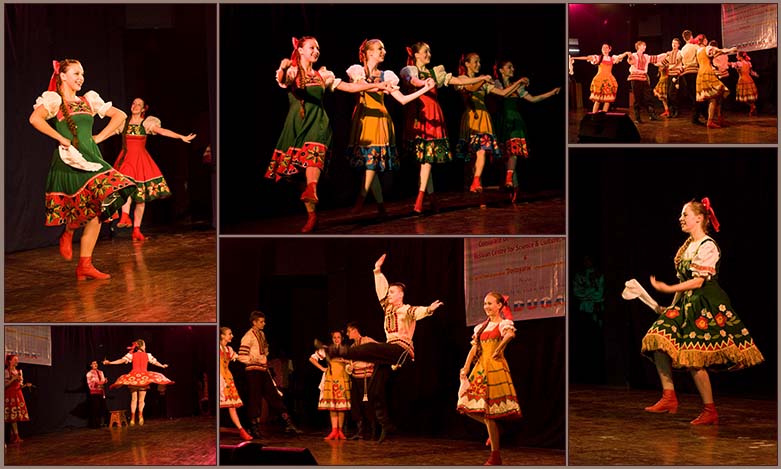 Sequence of Dances and Songs
The very first is Village , Village In a small village a boy and a girl meet separately. They join the dance. All of them dance together and leave together.
Dance of Spring
Along the grass and greenery. A dance of spring. A dance of green nature. The fresh grass welcomes everybody to run bare- footed on it. You can jump along it, you can lie down on it. In short, it allows you to be in Nature's arms.
Girl Katyusha ( Song and Dance)
A world - famous Russian folk-song about a girl and about her beloved, who is on the front. Sung by Nadeza Bakulev & by the solo dancer of the ensemble M. Cheprasova.
A Dance with ropes (Dance)
In Russia every object can inspire you to dance be it beauty of somebody, be it a musical instrument or be it a plain rope. Girls use ropes to dance with boys. Boys show their skills in front of girls to make them jump and dance.

A dance with Kerchiefs (Dance)
A colourful folk dance. Kerchiefs will be adding more colours to it. In a dance like this, girls answer to the boys, wooing them, with beautiful, colourful platochek.
The Voronezh Lozhkari (Dance)
In Russia people love to sing and dance to the tunes of any and every instrument. And any object can become an instrument for their dances. Even the spoons in the kitchen.
Who is better? (Dance)
A dance in pairs, who are competing with each other to prove - who is better ? Young boys and girls show who is stronger and who is better.
The Russian Fantasy (Dance)
Any festival is an eye-catching feast of dances-mainly group dances. Here we see different types of folk dances.

A young Lady (Dance)
This dance is about a young, beautiful woman, who had always been the Head of the family. In olden days, girls were taught to dance from a very early age. This dance is the embodiment of the dignity and beauty of Russian women.
This is what our people like (Song)
A Russian folk song, sung by Nadezda Bakuleva.
Russian people are not only beautiful dancers, but also they are melodious singers. In the village any festival is synonymous with Russian songs. They are at times very funny and they have a very deep meaning.
The evening has set in (Song)
Evening time is time for meeting, for romance and for enjoyment, sitting together at the sunset, young people are exchanging sweet nothings. A folk song, sung by Nadezda Bakuleva.
A sailor's dance (Dance)
A dance by men. By sailors. Men are trying to show their better qualities in dance. Now a days girls are also performing this dance.
It is boring. It is sad. (Song)
A song, describing grief.
At times a very reigning good mood gets replaced by a bad one. Although a sad song, it is sung with hearty feelings. A Russian folk–song, sung by Nadezda Bakuleva.
(Song)
Troika is a famous Russian traditional horse-cart. Even when snow is lying in abundance, it can make its way very fast, with the speed of a lightening. A Russian folk-song, sung by Nadezda Bakuleva.

Gopak (Dance)
Gopak. This is a Ukrainian folk dance. The origin is in the word - Jump, jump, jump.
(Song)
What are the songs, sung in Russia?
Russian land is full of music. Its rich, its deep, its diverse. Songs are lively, they are happy, they are sad. All these songs are about life. A folk song, sung by Nadezda Bakuleva.
(Song)
Give me a balalaika.
Rainbow - Russian Folk DanceIt's a light, funny song. This folk instrument is very popular in Russian. Russian people dance and sing to its tunes. Without balalaika, there is no celebration in Russia. Song is going to be presented by Nadezda Bakuleva.
A dance with 'balalaikas' (Song)
Nadezda asked for the Balalaika and here they are. Here is the dance with 5 balalaikas. It's a jolly, funful dance, full of joy and enjoyment.
Media Coverage