A lecture-demonstration was organised by the Art India Foundation for the students of Madhavrao Bhagwat High School, Vile Parle, Mumbai on "How to create art objects out of coconut shells and bamboo". This was conducted by Shri. Ramesh Date, a veteran artist who has dedicated his life to the propagation of this craft.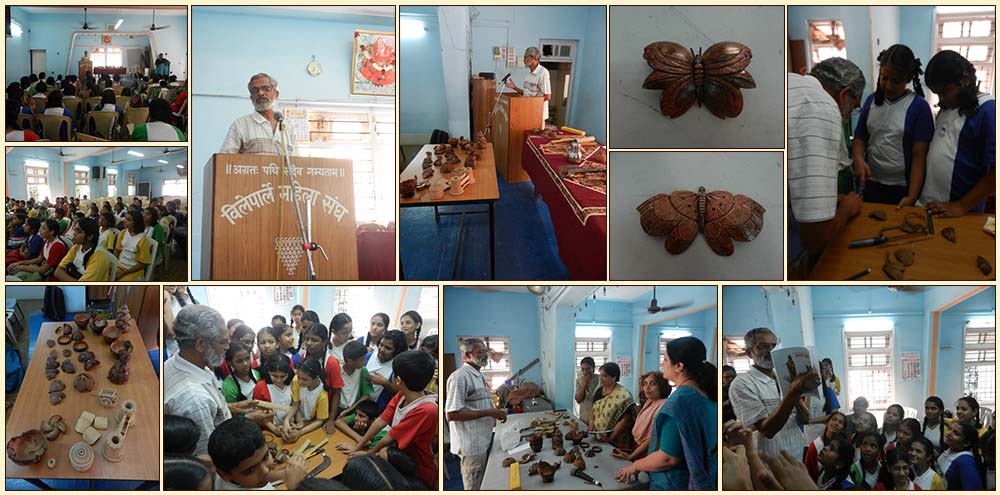 The children at Madhavrao Bhagwat High School were initially sceptical as they had never seen anything like this before. Their scepticism turned into enthusiasm at the end of the lecture-demonstration when they all wanted a full fledged workshop to learn this unique craft hands-on.
About Ramesh Date
Shri. Ramesh Date studied Applied Art at Sir J. J. School of Art, Mumbai and began his professional career with an advertising agency. A chance assignment which necessitated him creating a prototype in bamboo fired an interest which turned into a lifelong passion. He has subsequently created several bamboo objects and sculptures and has displayed these at numerous exhibitions which received wide acclaim. Apart from bamboo, Shri. Date has put wasted coconut shells to beautiful use and has created wonderful objects out of them. His journey of creating art out of these unusual natural mediums has been documented in his recently published book "Kala-Kruti".